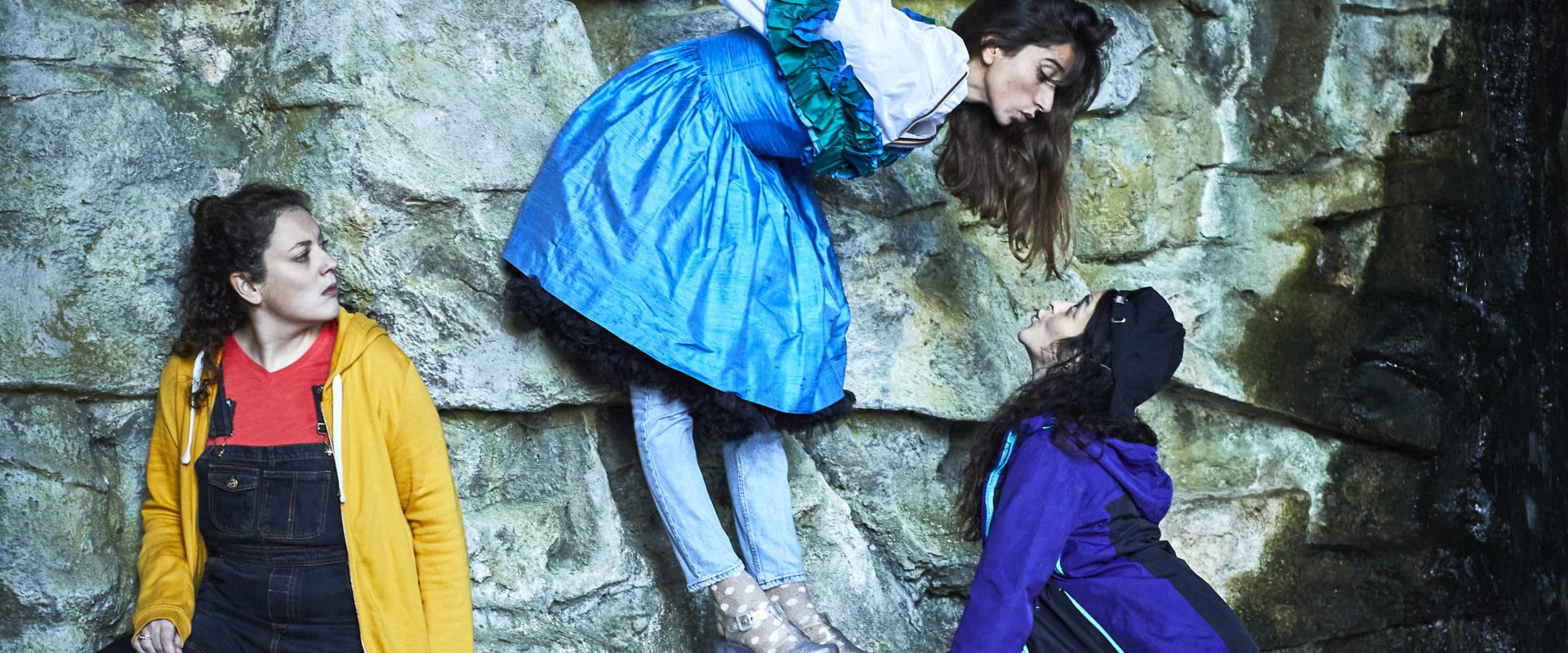 Cie du Bredin
Soudain, chutes et envols
Marie Dilasser / Laurent Vacher
There are three of them, in a public garden. Three to meet in their respective quest for love. But what is love?
Laurent Vacher explores the discovery of romantic feelings through the text of Marie Dilasser who revisits Fragments of a loving discourse by Roland Barthes. A dive into adolescence. Decisive and often capital passage for the construction of the adult to understand what children, teenagers, hope for, envisage, dream of the love life. It talks about waiting for each other at night in a park, exchanging fiery text messages, parents who don't understand much about it, role-playing and genre games served by three young actresses. who will play in Avignon in a garden…
A show with scathing humor that debunks conventions and cheekily plays with clichés.
Company presentation
More than fifteen years ago, Laurent Vacher created the Compagnie du Bredin. With this name, Bredin, the space to be an "idiot", which leaves him all the freedom to be inaccurate, insolent and offbeat. He likes to understand. Understand the workings of our society. Whether in our individual or collective behavior. He likes to seize, to denounce the social mechanics. The company of Bredin is both present on territorial projects in the French Grand Est Region in particular and elsewhere in France and abroad, by creating texts by contemporary authors questioning the ways of being, of thinking.
Laurent Vacher - Director
Laurent Vacher started as an actor at the Jacques Lecocq school. He quickly turned to directing and founded the Compagnie du Bredin in 1998.
The Cie du Bredin has held residencies in different theaters in the French Grand Est region for more than 10 years, and at the Nouveau Relax in Chaumont.
Since the creation of the company, Laurent Vacher has placed contemporary writing at the center of his projects, working with authors from France and elsewhere, regularly placing orders according to the creations.
Let us mention among them the very rich careers with Aziz Chouaki, Philippe Malone, or Marie Dilasser. Or partnerships abroad with Mario Santander (Paraguay), José Rivera (Puerto Rico), Spiro Scimone (Italy) or Nimrod (Chad).
Laurent Vacher is interested in the relationship between science and humanism. He has notably adapted works by Théodore Monod (2008) and Giordano Bruno (from 2002 to 2013) for the stage.
Finally, Laurent Vacher leads a cultural action policy with diverse audiences, most often in the French Grand Est region. Orders of structures or projects carried out on the initiative of the company, the themes selected are anchored in the reality of the territories, often linked to creations of the company and regularly lead to shared creations with non-professionals actors.

Marie Dilasser - Author
Marie Dilasser was born in 1980 in Brest. In 2000, she obtained a degree in performing arts then joined, in 2003, the "writing" department of ENSATT in Lyon where she encountered Queer theory, gender disorder, the traboules and Michel Raskine who put on stage three of her texts: "What to be now?", "The Sub-tenant and Snow White", "story of a Prince".
She returned to Brittany and bought sows with her first author's rights and, between birth and fattening, she wrote, among other things, "Écho-Système" (directed by Sylvie Jobert), "Crash Test" (directed by Nicolas Ramond) and" Paysage Interior Brut" (directed by Christophe Cagnolari, Barbara Shlittler and Blandine Pélissier). She then managed a bar-tabac-grocery store for six years where she wrote Montag(n)es (edited collectively), "Intermondes" (directed by Laurent Vacher), "Supposée Ève" (read by Laëtitia Guédon), "MADAM#2 Or how to hide without spending the night at the post" (directed by Hélène Soulié).
In 2019, she sailed and wrote "Soudain, chutes et envols" (directed by Laurent Vacher in 2022), "Penthésilé e s (Amazonomachy)" (directed by Laëtitia Guédon in 2021), "Océanisé e s" (directed by scene by Lucie Berelowitsch and adapted under the title Vanish in 2020).

Distribution
Text Marie Dilasser
Direction Laurent Vacher
With Ambre Dubrulle, Constance Guiouillier, Inès Do Nascimento
Set design Olivier Fauvel
Magic effects Benoit Dattez
Technical direction Farid Dahmani et Olivier Fauvel en alternance
Costums Virginie Alba assistée de Margot Déon
Production
Production Compagnie du Bredin – Laurent Vacher
Avec la participation artistique du studio d'Asnières – ESCA
Et le soutien du Festival aux quatre coins du mot (La Charité-sur-Loire)
Coproduction Le Nouveau relax (Chaumont)
La compagnie du Bredin est subventionnée par le ministère de la culture – DRAC Grand Est et la Région Grand Est
10:40 > 12:20shuttle ride included
07 > 26.07
Breaks on 13 & 20.07
Château – Outdoor stage
---
Château de Saint-Chamand Route /
---
From 12 years
Full price: 20,50€
Off rate: 14€
Pro rate: 9€