Ticketing
The ticket office is online. Book your tickets now!
The advertised rates are exclusive of web rental costs.
Public information
From July 5 to 25 (break on July 19):
04 90 85 12 71 / 10am-6pm
billetterie@lamanufacture.org
Schoolchildren, works councils, people with reduced mobility, don't hesitate to call us.

Professionnals
Book you tick with the online form.
Reception and information:
La Manufacture – 2 rue des Écoles (10am-6pm)
04 88 60 12 30 (10am-6pm) – break on July 19
Shuttles
Patinoire and Chateau stages are accessible by shuttle bus.
Meet at 2 rue des Écoles for support until the shuttles leave, Porte Thiers.
The show schedule communicated corresponds to the departure time of the shuttles. The duration of the show takes transport into account. The shuttle is free on presentation of the show ticket.
Accessibility for people with reduce mobility 
Places can be reserved for people with reduced mobility or in wheelchairs. We invite you to indicate this when purchasing your ticket to welcome you in the best possible conditions and to report to reception 15 minutes before the start of the show.
Please note, for access to Patinoire et Chateau, you must go directly to the site.
Important information Covid-19
The reception of the public is carried out in strict compliance with the health protocols in force at the time of the event, in agreement with the prefectural authorities. Our team is at your disposal to guide you in your travels and accompany you.
You are invited to use the hydroalcoholic gel provided at the entrance to all places.
We thank you for respecting physical distancing at all times (including in queues) and for following the traffic instructions given in each location. Wearing a mask covering the nose, mouth and chin is compulsory for anyone over 11 years old (failing this, reception will be refused).
The following procedures have been initiated:
– Electronic ticketing
– Reception opening at the Château and the Ice rink, departure from the rest of the rue des Ecoles
– Limitation of public and queue crossings
– 45 minutes between shows to ventilate and disinfect the rooms
– Forced ventilation of the rooms
– UV lamps between shows for room disinfection
– Training of room staff in Covid 19 procedures by the Prefecture of Vaucluse
Delay, cancellation and exchange
For reasons specific to Avignon, performances start on time. In case of delay, the ticket holder will not be able to enter the room given the configuration of our rooms. No refund will be made.
Tickets are neither returned nor exchanged except in cases of force majeure.
In the event of a definitive cancellation of a performance, tickets may be refunded.
HOW TO COME TO LA MANUFACTURE
Reception of the public open in each place 30 minutes before the start of each show.
INTRAMUROS
2 rue des Écoles — room located at the end of a shaded courtyard
PATINOIRE
2483 avenue de l'Amandier — Served by La Manufacture shuttles.
CHÂTEAU SAINT-CHAMAND
3 avenue François Mauriac — Served by La Manufacture shuttles, 5 min walk from Patinoire.
MUSÉE ANGLADON
5 rue du Laboureur — 10 min walk from Intramuros
Please note: access by car to the city center is prohibited from 1 p.m. to 2 a.m. (except authorized vehicles).
Before or after a show, from breakfast to dinner, we welcome at 2 rue des Écoles. At La Manufacture, you can enjoy tasty, local, eco-responsible cuisine in a friendly atmosphere and in the shade of the plane tree, prepared by the caterer Le Mise en Bouche.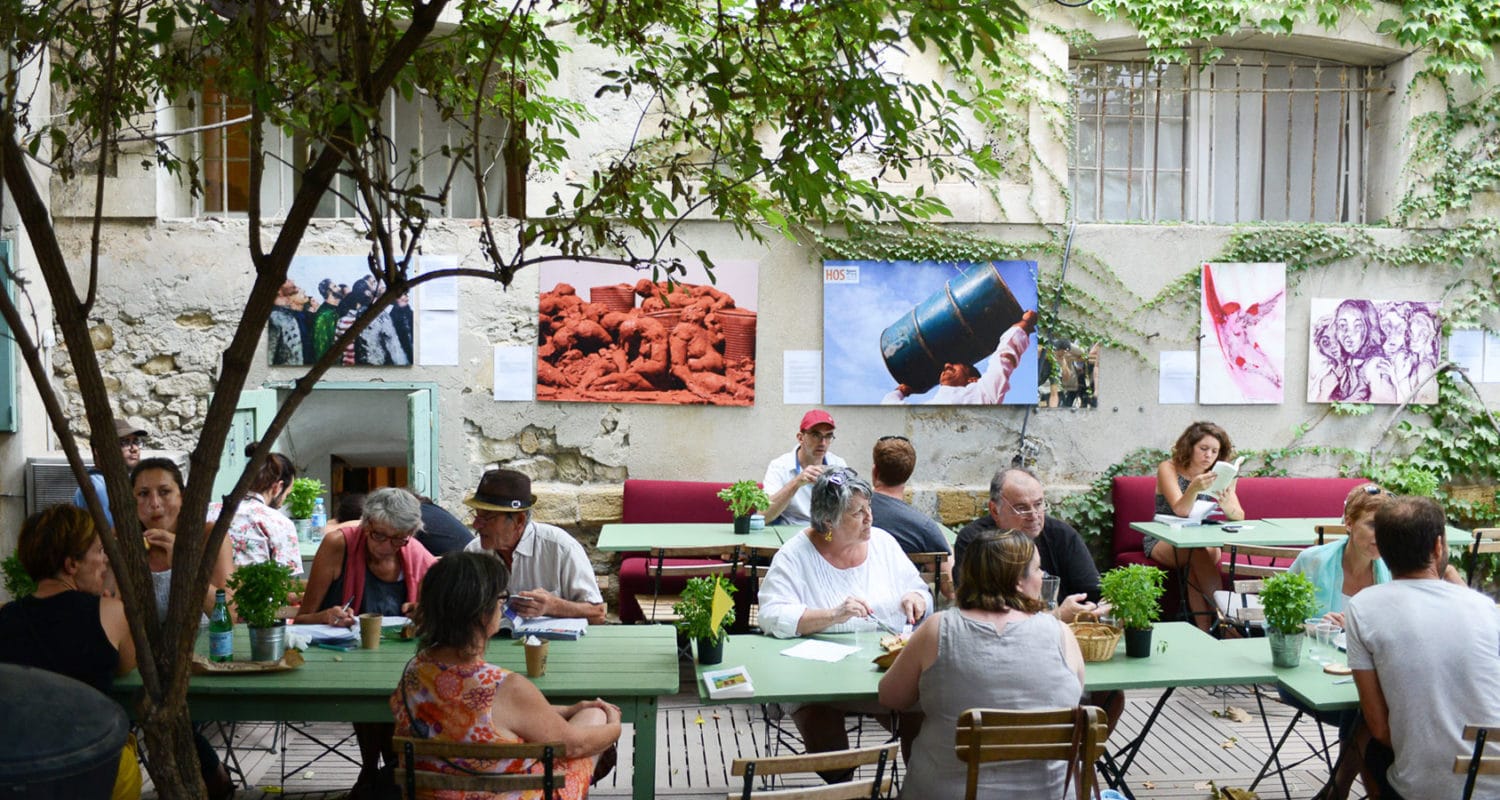 Steering committee
Pascal KEISER / President
Emilie AUDREN / Production and exploitation
Pierre HOLEMANS / External relations
Mael LE GOFF / Management and development
Festival production
Agathe JEANNEAU / Artistic coordination
Laetitia LEPETIT / General coordination
Danielle LE GOFF / Administration
Terrritory project
Marie ALBERT / European projects
Julie CHARRIER / Regional projects
Frédéric POTY / International projects, IETM
Jefel GOUDJIL / Annex town hall interface
Saint-Chamand and Rocade Sud
Oussama MENEZLA & Abdel KADDOURI
/ Mediation of periphery districts audiences
Festival communication
Jeanne FALAISE / Print, website
Christelle SAEZ / Social networks
Murielle RICHARD / Press officer
06 11 20 57 35 – presse@lamanufacture.org
Reception and festival audiences
Katia GARANS and Manuel PETIT-AUFFRAY / Ticket office managers
Muriel BORDIER / Professional relations
Etienne LEGEARD / Professional reception and reservations
Festival technical team
Éric blondeau / Technical direction
Wilfried VANDERSUYFS & Victor PAYEN / Ice rink managers
Ilan DURET & Valentin CUVILLER / Château managers
Aury CHASSIGNOL, Antonio DIAZ / Intra-Muros managers
Alia COSMAN, Ambre GALLEGO / Flight managers
Since 2014, the CPPC — Centre de Production des Paroles Contemporaines (35) has been associated with La Manufacture – contemporary collective (84) in a process of pooling resources and skills in order to participate in the emergence of the contemporary theatrical scene.
We would like to thank the Richard family, owner of the place at 2 rue des Ecoles and Jean-Pierre Marchenay, owner of La Patinoire for their collaboration in the La Manufacture project.
Festival programme — comitedirection@lamanufacture.org
Territory projects — julie.charrier@lamanufacture.org