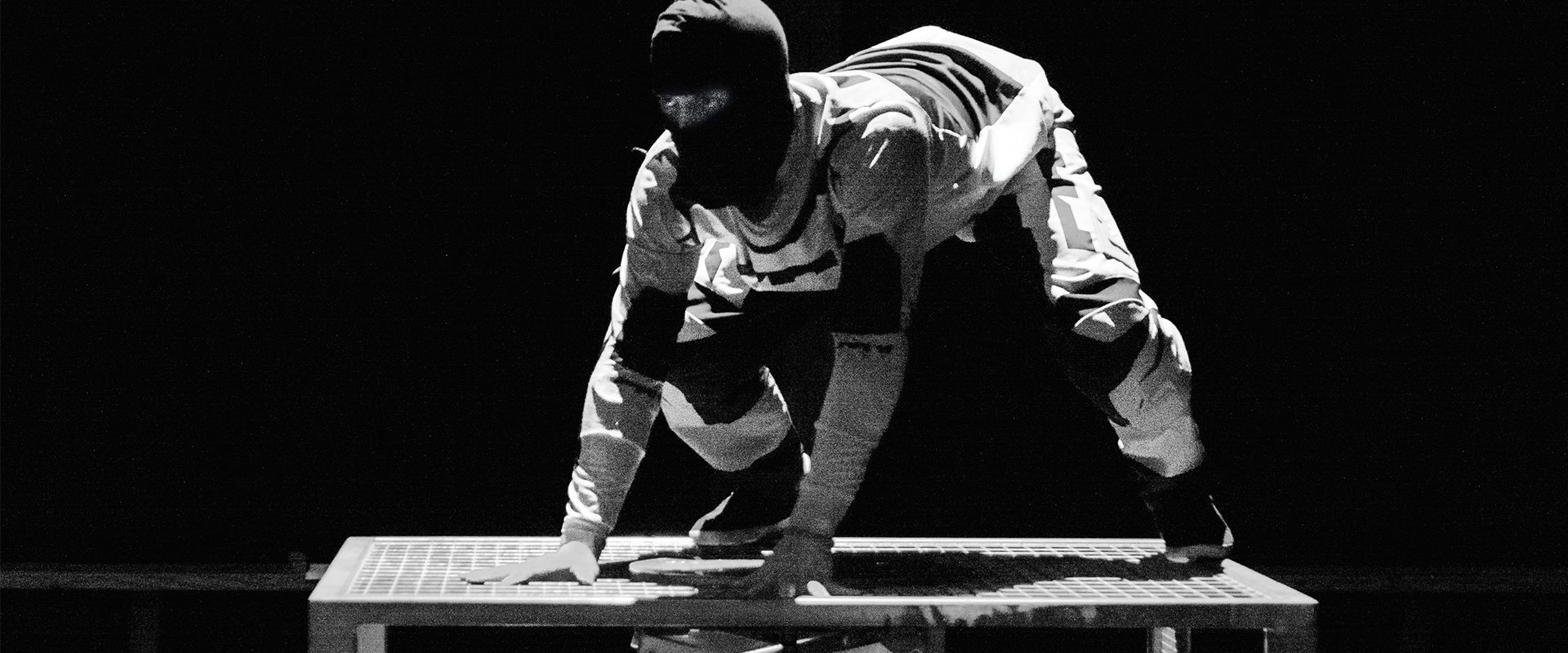 groupe Merci
Programme
Éric Arlix
Translation of the text in English, on sheet, available on request
Gears have changed since Charlie Chaplin's Modern Times but humans still need tricks and skills to cope with the world's brutality. New management, reality shows, and the world after… today's humans, now streamlined like racecars, fight to find their place amidst a hodge-podge of diktats. "Do not undergo your nth personal crash. Do your best. It's now." A single route to a wonderful Programme!
Do not undergo your nth personal crash. Do your best. It's now. — Éric Arlix
Company presentation
Based in Toulouse since 1996, groupe Merci was created by Solange Oswald and Joël Fesel. The company carries out crossbred experiments combining theater and plastic arts: their "Nocturnal Objects". Groupe Merci likes to explore non-theatrical spaces and devise immersive promenade-performances that "leap out" in unforeseen places: offering contemporary texts for the spectators to hear, where they least expect it, staged within singular performance installations. Groupe Merci has presented six Nocturnal Objects at the "In" Festival d'Avignon among which "La Mastication des morts."
Éric Arlix - Writer
He is a writer, a publisher and a "form researcher", whose books and eclectic production (concerts, readings, videos, publishing, workshops) interweave the unlikelihood of reality with a chaotic future. He has written eleven books (Le Monde de Jou, Désobéissance, Le Guide du démocrate…), three of which have been adapted for the stage, and put out 80 more as a publisher (Éditions ère, then Éditions JOU, since 2017).
Cast
With Georges Campagnac & Eliott Pineau Orcier
Concept & design Joël Fesel
Artistic collaboration Marie-Laure Hée & Pierre Déaux
Set design Alexandre Bügel
Lighting design & stage management Raphaël Sevet
Distribution Céline Maufra
Production
Production groupe Merci
Supports Circa, pôle national cirque, Auch Gers / Pavillon Mazar / Conseil départemental de la Haute-Garonne / Occitanie en scène
Groupe Merci is subsidized by DRAC Occitanie, Région Occitanie / Pyrénées-Méditerranée & Ville de Toulouse
20:05 > 21:30shuttle ride included
06 > 25.07
Breaks on 12 & 19.07
---
---
From 12 years
Full price: 20.5 €
Off rate: 14 €
Pro rate: 9 €