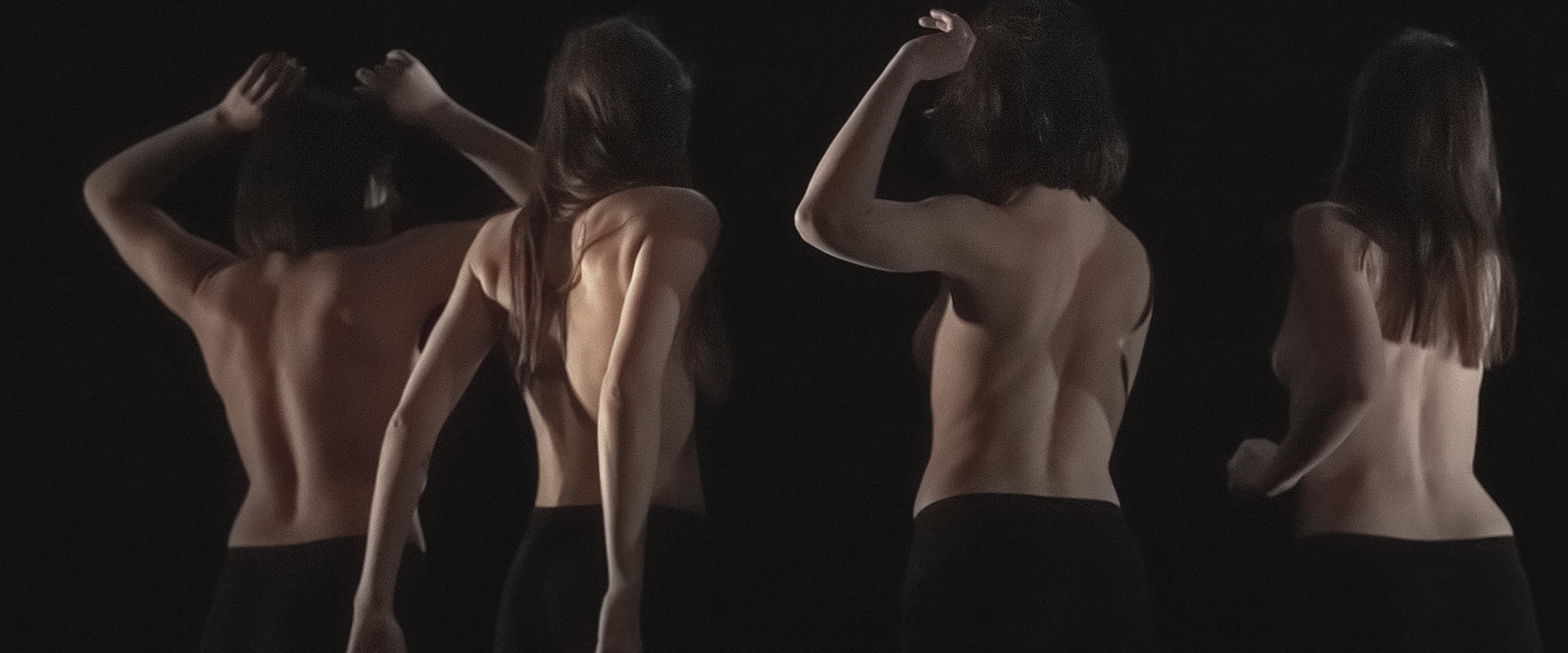 cats&snails
Plubel
Clémentine Vanlerberghe, Fabritia D'Intino
The movements become rhythm and melody in this group choreography, while digging into multiples references (from antic vestals, to chorists, through middle-age witches or models on the catwalk). Plubel questions both choreographic composition and these feminine figures, whose bodies were hidden or over-exposed, as an attempt for emancipation.
Plubel is a hypnotic travel of imitations and collage in which chorality – and even sorority- is a tool to make visible what has been hidden.
Company presentation
cats&snails is a dance company created in 2018. Based in Northern France, its ambition is to create choreographic forms adaptable to both theatres and other places.
Clémentine Vanlerberghe - Choregrapher
Based in Lille, Clémentine Vanlerberghe studied in Roubaix at the School of Ballet du Nord and at Artez in The Nertherlands. She is a dancer for numerous companies, and creates works since 2018.
Plubel is their first work together.

Fabritia D'Intino - Choregrapher
Based in Rome, Fabritia D'Intino studied dance at the National Academy of Rome and at the Artez School in the Netherlands. She won several prices in Italy with her works. Since 2018 she is a dancer and associated artist with the company Chiasma/Salvo Lombardo.
Distribution
Chorography Clémentine Vanlerberghe & Fabritia D'Intino
With Clémentine Vanlerberghe, Fabritia D'Intino, Céline Lefèvre, Marie Sinnaeve, in rotation with Daria Greco
Light design Pierre Staigre avec Violaine Burgard
Music creation Federico Scettri
Dramaturgical advices Merel Heering
Production
cats&snails / Pauline Charlier-Suzy Gournay
Coproductions Le Gymnase CDCN de Roubaix Hauts de France, La Fabrique de Théâtre,(Belgique), Chiasma / Salvo Lombardo (for the 2021 reprise )
With the support of DRAC Hauts de France, Région Hauts de France (for emerging artists and the operation  "Hauts-de-France en Avignon"), ADAMI
Studio L'Echangeur CDCN, Théâtre Massenet, CCN de Roubaix – Le Ballet du Nord, O Studio Roma, Studio 28
18:05 > 19:25shuttle ride included
16 > 25.07
Break on 19.07
---
Château de Saint-Chamand Route /
---
From 14 years
Full price: 20.5 €
Off rate: 14 €
Pro rate: 9 €