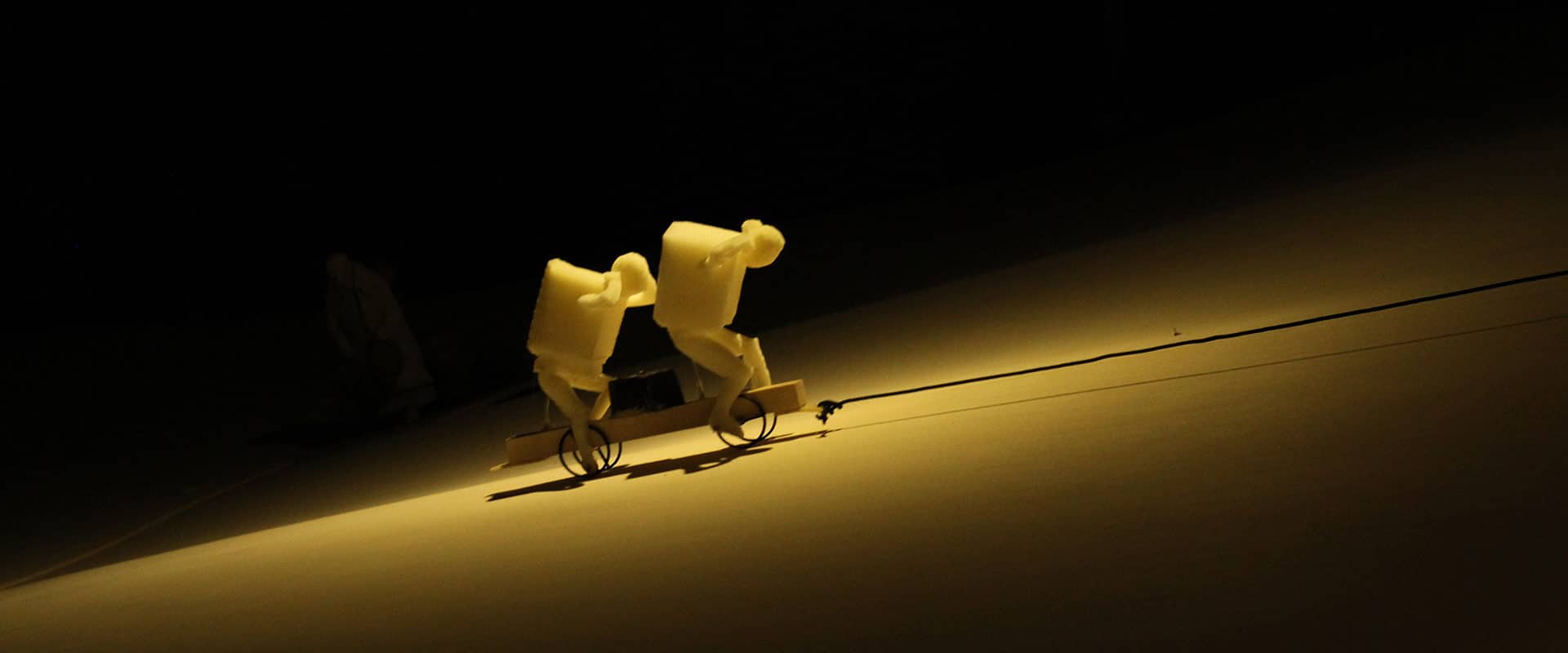 Théâtre de la Massue
Le Petit Théâtre du Bout du Monde Opus 2
Ezequiel Garcia Romeu
The 2 opuses of the Petit Théâtre du bout du Monde, shows-installations for puppets and contemporary art, offer spectators the opportunity to immerse themselves in a strange universe and observe a series of characters. Who are these bizarre creatures?
With his puppets E. Garcia Romeu leads the spectators into a disturbing universe filled with questions about the present and the future
Company presentation
Directed by director and puppeteer Ezequiel Garcia Romeu, the Théâtre de la Massue company actively participates in the exploration of new forms of scenic writing, particularly in the art of contemporary puppetry and contemporary art. Since 1994, his creations have been performed on renowned national stages and theaters. The company acquires an international dimension by participating in major festivals such as the Festival d'Avignon, the Berliner Festspiele, or recently Plovdiv, European Capital of Culture...
Cast
Avec Issam Kadichi (Opus 1), Ezéquiel Garcia-Romeu, Alicia Malialin, Iroslav Petkov, et Inbal Yomtovian (Opus 2)
Mise en scène et scénographie Ezequiel Garcia Romeu
Dramaturgie Laurent Caillon
Création lumière Thierry Hett
Création musicale René Koering
Création son Stéphane Morisse
Administration Frédéric Poty
Production
Théâtre de la Massue
Co-production Extra-pôle arts de la scène – Provence-Alpes-Côte d'Azur, Le Carré, Plovdiv – Capitale européenne de la culture 2019, Théâtre National de Marionnettes de Vidin, Théâtre National de Nice, Théâtre Nouvelle Génération (TNG), Théâtre-Sénart, Scène nationale
Partenaires Themaa, l'Entrepont à Nice, l'IETM
Soutiens Ville de Nice, Département des Alpes-Maritime, Région Provence-Alpes-Côte d'Azur, DRAC PACA, Europe Creative, Spedidam
9:40 > 11:40shuttle ride included
06 > 24.07
(even days) Spring break 12.07
---
---
From 10 years
Full price: 20.5 €
Off rate: 14 €
Pro rate: 9 €