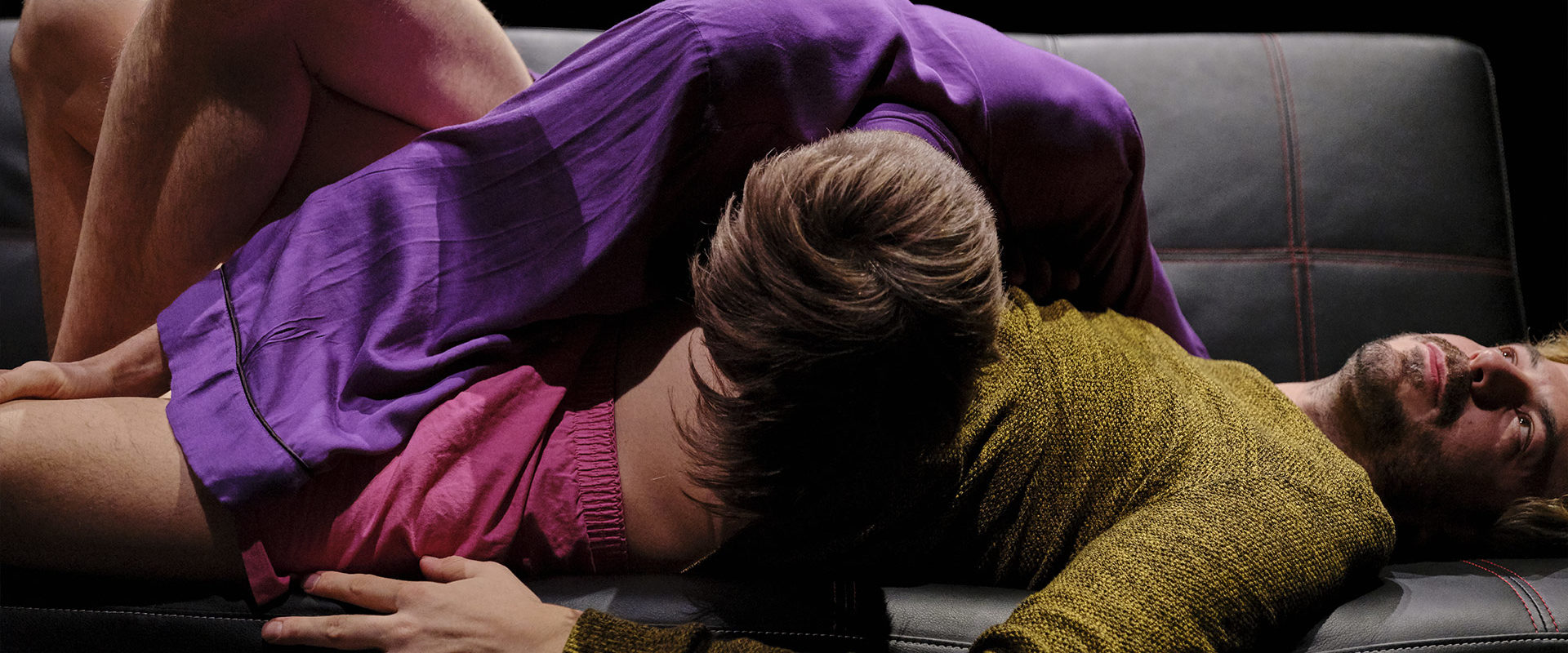 Cie Philippe Saire
Angels in America
Tony Kushner
In the Reaganist America of the 1980s, AIDS breaks out in the gay communities. The trajectories of life intertwine with humour and allegory, and the characters face ostracism and politicization of the intimate. The sudden disintegration of the world and the collective urges its improbable and joyful reinvention.
Primarily a choreographer, Philippe Saire places great emphasis on physicality — an echo of his work, which is often marked by a great deal of interpretation and dramaturgy. Here, the bodies are marked by illness and doubt, but also by sensuality, compassion, indignation or absurdity.
A success carried by remarkable actors and a staging in which the movement takes on as much importance as the text. — Jean-Marie Wynants
Cast
Mise en scène et chorégraphie Philippe Saire
Interprétation Adrien Barazzone, Valeria Bertolotto, Pierre-Antoine Dubey, Joelle Fontannaz, Roland Gervet, Jonathan Axel Gomis, Baptiste Morisod
Assistant à la mise en scène Chady Abu-Nijmeh
Dramaturgie Carine Corajoud
Création Lumières Eric Soyer
Scénographie Claire Peverelli
Création sonore Jérémy Conne
Costumes Isa Boucharlat
Maquillage Nathalie Monod
Direction technique Vincent Scalbert
Production
Coproduction Comédie de Genève, Arsenic, Centre d'art scénique contemporain – Lausanne, Théâtre des Martyrs – Bruxelles, Théâtre Benno Besson – Yverdon-les-Bains
Soutiens et partenaires La Compagnie est au bénéfice d'une convention de soutien conjoint avec La Ville de Lausanne, le Canton de Vaud et Pro Helvetia, Fondation suisse pour la culture ; le spectacle est lauréat du concours Label+ romand – arts de la scène, et soutenu par la Loterie Romande, la Fondation de Famille Sandoz, Sophie und Karl Binding Stiftung et le Migros Pour-cent culturel. La Cie Philippe Saire est compagnie résidente au Théâtre Sévelin 36, Lausanne.
21:30 > 00:40shuttle ride included
06 > 25.07
Break on 12 & 19.07
---
---
Full price: 20.5 €
Off rate: 14 €
Pro rate: 9 €